Around 7:00 pm on March 31, AKB48 member Watanabe Mayu submitted her application to run for 2013 AKB48 32nd single General Election.
As little fans expected Mayuyu would decide her candidacy this early date (the first day they started accepting applications from members for the election), it came as a surprise when some fans who were at AKB48 theater's lobby tweeted "Mayuyu is submitting her application for the election!!"
AKB48 theater manager KKS Mr. Yuasa shared a photo that captured the moment.
Yuasa: Here is Mayuyu coming to submit her application to run for the general election!
She submitted the application at 19:55 on that day. And is the first AKB48 member declared her candidacy officially.
In the past elections She ranked at 4th(2009), 5th(2010), 5th(2011) and 2nd (2012).
In the last year's election speech, she said "If there would be election next year, I would like to win No.1 spot."
And she restated the phrase again this time, saying "Of course, I'm aiming at No.1 spot."
During the press conference at the theater, she revealed that she "decided to run for the election the moment she heard this year's election requires members to declare their participation by themselves.
And I wanted to stir myself up by being the first member to run for it."
2012 was the turning point for Watanabe Mayu. She made her solo debut with single "Synchro Tokimeki", chosen for Seiyu Senbatsu for Anime AKB0048 and released singles as a member of subunit, NO NAME.
She has been increasing her presence both in mainstream media and fandom after the graduation of absolute Ace, Maeda Atsuko in August 2012.
She used to be an understated girl, but going through big events like Japan Record Taisho or Kohaku Utagassen as Ace of AKB48, representing the whole group has made subtle change in her mindset. Now it's not rare to hear stirring, explicitly positive words from her. The responsibility, and self-awareness of being Ace of AKB48. She is not afraid of taking on that.
Former AKB48 and SDN48 members Urano Kazumi (aka Cindy), Sato Yukari (aka Yukori) and Noro Kayo (aka Noro-san) also submitted their applications on the same day at the AKB48 theater.
There was some twist though. Noro's candidacy has been put on judge of election committee as she can't participate in Vote Count event that will be held in Nissan Stadium on June 8th.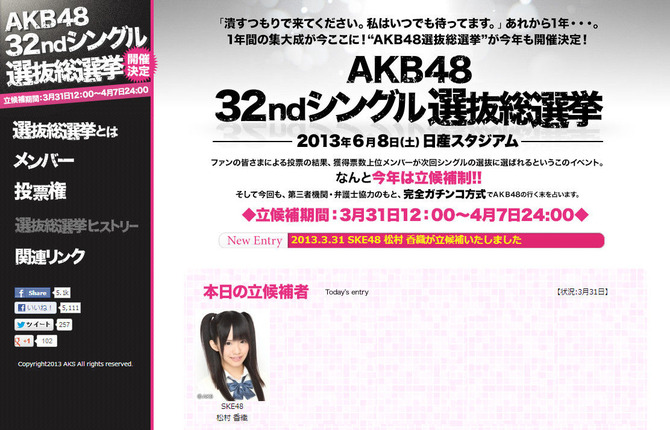 Watanabe Mayu is the first AKB48 member who officially declared her candidacy.
But if you talk about the whole AKB48G, there were members who was way earlier than her, and the girl who was the very first was, not surprisingly, our SKE48's Matsumura Kaori aka Kaotan.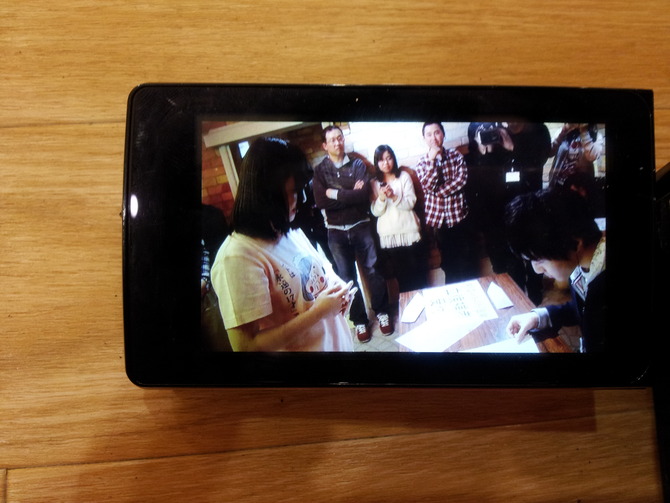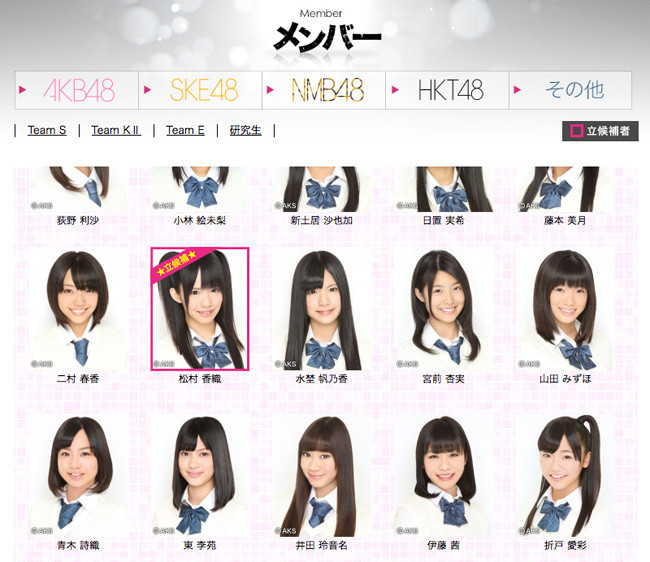 As of 11:00 am JST on April 1st, Members who submitted their application for the election are….
No need to mention here. You can check it out realtime on official website for AKB48 32nd single Senbtasu Election.