During a radio show "AKB48 no All Night Nippon" (1:00 midnight, every Wednesday) aired last night, it was announced that AKB48's sub-unit DiVA will release their new and last single within this year.
It was announced by DiVA's own members, Miyazawa Sae and Umeda Ayaka. They were the MCs of the show last night.
They will release their 4th single on Oct 8, and subsequently, their 1st and last album by the end of 2014. After these releases, the band will hold "Premium live" and to be disbanded afterward.
AKB48's dance 'n vocal subunit DiVA (Ume,Sae) will come back to the scene in a big way! They'll produced by 90's legend Komuro Testuya!

#ANN
Earlier this year, Akimoto Sayaka & DiVA covered a 90's multi-million hit by Hamada Masatoshi (Downtown) and Komuro

youtube.com/watch?v=kSeNPF…

The band was virtually on hiatus for the last 2 and a half years. As Miyazawa Sae put it, the subunit was "always in a pinch", hardly has had mainstream spotlights throughout it's history.
But that is about to change (it's too late, though).
Legendary J-pop producer from 90's era, Komuro Tetsuya, is hired to produce DiVA's 4th single. And one of the most popular members in the history of AKB48, Oshima Yuko, will become a lyricist for the band's 4th single.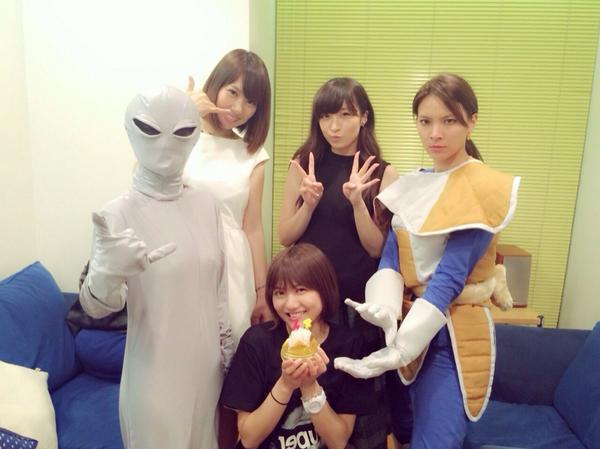 During the live broadcat, the two made a phone call to Oshima Yuko, and asked her to write lyrics for the band.
At its formation, DiVA had 4 members from AKB48, Akimoto Sayaka, Umeda Sayaka, Miyazawa Sae, and Masuda Yuka. All of them are more of a serious performer than a kawaii idol.
During the hiatus, two of them, Akimoto Sayaka and Masuda Yuka, graduated AKB48. Many wondered this might be a severe blow to the band, as they're known for their singing prowess, and, unlike AKB48, the band has no supply of new talents.
Turned out Akimoto Sayaka is still an active member of DiVA, and Masuda Yuka, who left AKB48 after her dating scandal surfaced, also comes back to be a part of DiVA. (She left DiVA when she graduated AKB48)
The band has been renamed to "DIVA" in order to mark its own finale.
*Recently the 2nd generation members gathered to celebrate Miyazawa Sae's 24th birthday.
24なり〜〜(≧∇≦)✨

みなさん、たくさんのお祝いコメントありがとうございます!❤️嬉しい(^.^)

バカな人達がお祝いしに来てくれたよ。
バカ最高!2期最高!心友トリオ最高! http://t.co/TPnV5aFAA2