Today's Hot Topic Of AKB on G+
1. Kana Kobayashi's Minegishi
2. Adorable Miorin
3. Deleted Karen's photo
4. A Daily Life Of Team 4 Members
Kana Kobayashi's Minegishi Growing
Kana Kobayashi on G+
Today's Minegishi。
It's somehow makes me feel happy to see Minegishi is growing bigger.
Minegishi: The name of Negi(leek) Kana Kobayashi is raising herself.
Drinking-Juice,Miorin's Posed So Adorablely
Maria Abe on G+
Miron is aiming at getting TV Commercial( ´ ▽ ` )ノ笑っ
(TV Ads for Lemon Juice)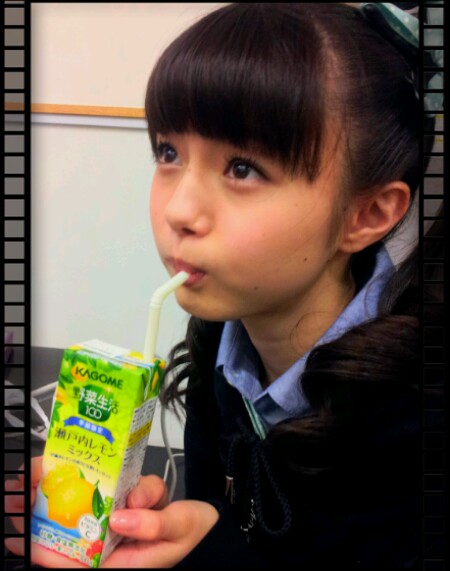 Miorin: What would happen with me without Lemon
*Miorin's catch phrase "Fresh Lemon ni naritaino~!" (I want to be Fresh Lemon~!)
Deleted Funny Face Photo of Karen Iwata
(Rina Kawaei) Karen-chan~~~★♪
This post was deleted after several minutes.
Karen "I'm apologize to have you witness such a disgraceful photo. That photo was posted by Rina Kawaei without my permission.
Now I'm going for photoshooting." <- This 13y/o girl is always polite and poised imo more than anyone else in AKB.
A daily life of team 4 members
Haruka Shimada on G+
A daily life day of team 4 members★

Mina Oba and Maria Abe..
Watching K-pop MVs.
I found my Oshi-men (of K-pop) is the same person as Mina's. wwww
Recent personal trend of Karen is putting on a high-heeled loafer she recently bought.
Rina's bang hair looked different today…
Rina Kawaei and Juri Takahashi
While Annin's bang hair was perfect like a queen as always… but she said she can gave only 64 out of 100 for herself… lol
And Suzuran was shouting as usual of her.
How about this kind of G+ post?(^^)