JKT48 launches their first CD single RIVER, in JKT48 Theater on Friday (10/5), only three months after the release of their first album Heavy Rotation. With the song RIVER as the CD single's main song, JKT48 hopes to show the fans their fresh, powerful image.
"We are very excited with this new CD, because it is an opportunity to present our more powerful side which are different from our previous cute image" said JKT48 member, Melody.
To promote their CD single, JKT48 members will tour around Indonesian cities for direct selling and handshake sessions.
There are two types of JKT48's river CD single: the theater version, and the regular version. Both versions contain the songs RIVER, Sakura No Shiori, and Mirai No Kajitsu (performed by JKT48 trainee team). However, the regular version contains an additional song Kimi Ni Autabi Koi Wo Suru.
The theater version, the less expensive one, include bonuses that are individual handshake ticket and a trump card with a photo of JKT48 member. This version will be open for sale only at JKT48 theater starting on 11/5 and the members will participate in selling the CDs.
The handshake session in JKT48 theater will be held on June 1.
Meanwhile, the regular version include bonuses of RIVER music video dvd, the music video's behind the scene footage, and the behind the scene video of Mirai no Kajtsu. This version also contains a JKT48 member photo and a special card for mobile game called JKT48 card battle game.
The regular version CD will be available later in May at online shops, and music stores. Fans abroad can purchase the CD at the online stores http://jkt48-official.shop.rakuten.web.id/ and http://nadatop.com/ when its available.
Regarding the preparation of the CD which coincided with Indonesia's Nationwide Exam, Shania, one of the JKT48 members who just took junior high school national exam said, "At first it was difficult, but other members and staff helped us a lot in catching up with the preparation."
When asked about how akb48 members reacted to JKT48's recent RIVER performance in Budokan Concert, Japan, the Captain of JKT48, Kinal said, "We couldn't really understand what the akb48 members were saying, but looking at their expressions, I think they were excited to see our performance. They gave us thumbs up and said 'RIVER… RIVER…'".
Information about JKT48 CD single RIVER can be found at http://www.jkt48.com/river
(Available in 日本語 and Indonesian).
Additional photo first day CD sales queues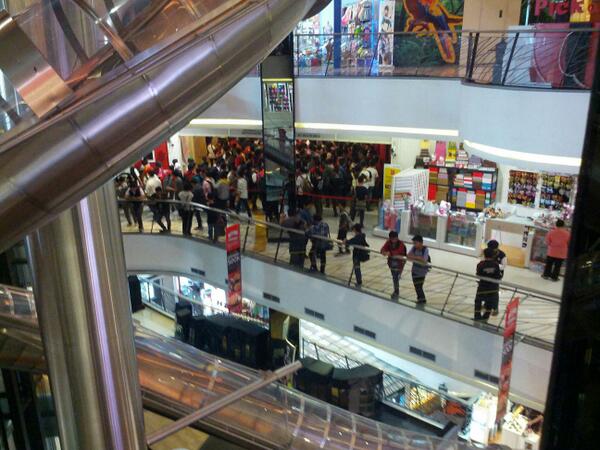 AKB48 – RIVER

JKT48 – RIVER from 2013 Budokan

JKT48 RIVER @ Grand Final Indonesia Mencari Bakat TransTV 2013-05-12