The '48 groups have been organising promising young idols into subunits for years. As members become popular and their schedules busier, their subunits tend to fall into inactivity and make way for new ones. So with the disbandment of Watarirouka Hashiritai, and No3b and French Kiss indefinitely on hold, fresh-faced trainees and recently promoted members in groups like Tentoumu Chu! ('Ladybird Kiss!') are moving up to take their place.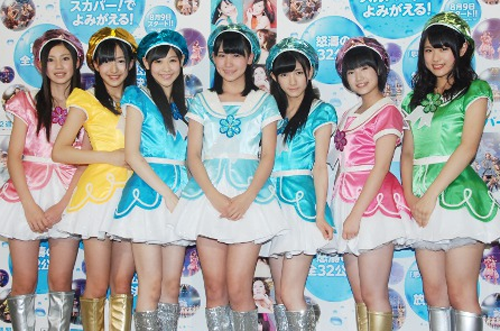 A new phenomenon in the '48 group is the formation of 'unofficial' subunits. The first of these was Kabutomu Chu! ('Beetle Kiss!'), created by Hashimoto Hikari, Maeda Mitsuki and Uchiyama Natsuki of the 14th Generation. Ignored by management in favour of the increasingly prominent 14th Generation Three Musketeers, these three decided to take matters into their own hands. They've yet to release anything, but were given a long interview by the official AKB48 Newspaper, in which they stated their goal of performing on Music Station with a song containing the hook, "Sweat, Fly!!"
Another copycat group was subsequently formed in HKT48 made up of recently promoted trainees Goto Izumi, Komada Hiroka, Sakaguchi Riko, Tani Marika and Tomiyoshi Asuka, who call themselves Imomu Chu! ('Caterpillar Kiss'). These five are also known as Team Daijoubu, and recognised for their MC skills at HKT48 theatre performances.
Whether these subunits will ever be recognised by management and allowed to release their own material is as yet unknown. However, they have been slowly gathering support, with fans turning up to theatre performances and handshake events with 'Kabutomu Chu!' fans and clothes.
Whether or not we'll get to hear Hikari's proposed song about flying sweat at next year's Unit Matsuri, it's always great to see members who aren't being pushed by management taking the initiative and arranging their own activities.
If you have time, please head over to these members' Google+ accounts, and show your support for Kabutomu and Imoumu Chu!!