Some people including many J-pop fans are complaining about how AKB is destroying the meanings of record sales as a means to measure the quality of music itself. Every May, AKB release new single which comes with ballot tickets. Last year's May singles
Evicachu
 is ranked No.1 in Japanese history for it's first week record sales. But you should note this single sold
942
thousands copies for the first day of the release, that means these days most of fans pre-order records, and when you look at the statistics, you'll find AKB's first week sales is not that different from total sales.
2010 May's sinlge Ponichu sold 354 thousands copies for the first week, it's about one third of Evicachu. It you do the simple math this means in 2012 they will sell 2,500 thousands copies of Manatsu no Sounds Good!, which is a mind-blowing number. Is it gonna be difficult to surpass Evicachu's sales number? But don't forget!! Everyday, Cachucha, about 2 million-selling single, was on sale 3 moths after the Tohoku Great Earthquake and Tsunami. There're a lot of criticism to spare TV spot for this kind of news, but for most of the Japanese, they were symbolizing the bright future of Japan and re-born of Japanese pop, and there're tons of AKB fans in Tohoku as well. Given the fact in last May the country was still in emergency state, this sales number is incredible.

In 6th June 2011, Sanspo reported of all 1.72 million records sold so far, 780 thousands ballots were already casted. (the final result was announced on 9th June at Tokyo Budo-Kan)
In addition, according to AKS, total votes for 22th Single Senbatsu general election was 1,116,6145, among these 771 thousands are the votes from ballot tickets come with 21th single, Evicachu.
Comparison Chart Between Evicashu(pink) and Ponichu(blue)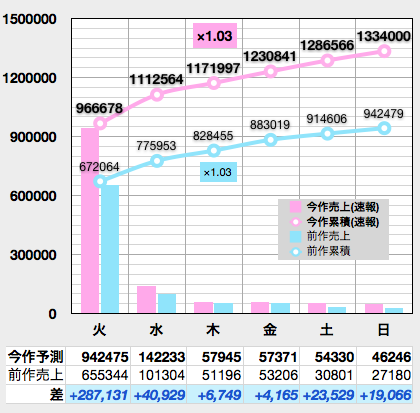 Source
Reaching one million within a week is the first time after 12 years when Hikki's single "Addicted to you" was released.
Evicahu
even surpass the previous record set by Mr.Children's single "NamonakiUta" 5 days after the release, at the point when they soled 1.21 million.
When you look at the chart, unlike Ponichu, Evicachu still keep increasing sales in it's 2nd week.
People were closely watching Evicachu's 2nd week sales number since on 1st June, another iconic Japanese rock band B'z released their 45th single, with which the band was aiming to extend their record of topping Oricon chart for 44 consecutive singles.
After all B'z commanded AKB-like bonuns items for their CDs, securing them to extend their record to 45 consecutive singles. So it's not only AKB but most of bands, idols do the same. Maybe the difference is AKB has Guinness record of about 300 members. This make all kinds of their events in larger scale than any other music act.
So let's break down the sales number of Evicachu.
Of it's 1.45 million sales for 2 weeks –> 771 thousands votes are casted.
That means (1.45 – 0.771 =) about 679 thousands copies of "Theatre version" were sold
Since Oricon's report said about 670 thousands copies were sold as of 6th June, given that there's a time lag, we can say almost 100% purchasers of the single casted their votes.
Of course it doesn't mean 770 thousands People bought the CD. It means xxx thousands people bought total 770 thousands CDs. In addition, there are many who bought both Normal edition and Theatre edition, because they want to join the hand-shake events. So the final break down goes like this.
771 thousands for Normal Edition -> Votes and nationwide Shake-hand event
679 thousands for Theatre Edition -> "Shake-hands with a particular member" event
Of course tons of fans bought both, since if you want to cast your vote for your Oshi-Men, why you don't want to get a ticket to meet and talk to her???
So those who make these kinds of remark are wrong.
"All 1.45 million records come with Ballot Ticket."
"Only half of purchasers casted their votes."
"So, half of purchasers bought a single just for music itself." (a great number of people bought for shake-hands event)
"Half of the sales represents unique number of purchasers." (tons of people bought both theatre version and normal version)
That said, I estimate the reason Evicachu's 2nd week sales was not so bad were mostly because some fans bought CDs for tickets for hand-shake event.
Even though it might be wrong to assume most people voted their ballots tickets, and there might be tons of people who simply forgot to cast their votes, it's pretty unlikely that theater version sold less than 500 thousands since total 200 thousands people went to AKB's hand-shake event for "Theatre version" for this single and more than half of them had multiple tickets. (simple math: 200 thousands x single digit < 500K)
So this "Election" and "Shake-hands event" is a scam?
If you believe sales number should be measured only by music inside the CD, then this is a scam without any doubt.
But if you believe people can spend their money for whatever they want, and sales number represents aggregated price of  how much people want to spend for the musician, then there's no number more precisely represent it than AKB's record sales.
One wise man said it all.
"Buy 50 or 100 or 1000 copies of the same CD?
Why can you blame him if he spend his own money?"
If you want to know the true headcounts, it's impossible. It's is under thick cloud. Record label never unveil it or I don't think even they count it.
Someone said,
"I saw a lot of folks buying 6, 20 or 200 copies at the store.
But first editions were sold out in a flash."
Store Staff of HMV commented
"It's more like a lot of customers came to buy a record than small number of people buy  multiple copies."
So since there's no official source on the breakdown of the CD sales, we can only guess the truth by asking people who bought the CD. Here is one extreme example. this photos went viral throughout Japan. He is an intensive Jurina-Oshi (casted 2,200 vote for her), and I can somehow understand his motive…
I will cast all my votes for you Jurina. I'll never let you shed sad tears anymore… This is the only thing I can help you… Go, Go, Goooooooooooooooo Jurina!! (If $12,000 is a price to see your smile, then it's very cheap!)